Rock climbing is one of the most exhilarating sports out there. Scaling open rock faces and climbing high above the ground may be loads of fun, but you need to make sure you are properly protected. To do this, you will need the best climbing helmet. Climbing helmets are essential for keeping your head safe – which is your most vulnerable area to protect in extreme sports. When you start rock climbing, a quality helmet should always be a top priority.
While a mountaineering helmet is a safety necessity, it still needs to be a practical choice for your climb. This means it should be comfortable and non-restricting while providing the highest level of protection available. We have uncovered some of the absolute best mountaineering helmets available to make it easier to find the right one for your next climb.
---
Best Climbing Helmet Reviews
---
Best Rock Climbing Helmets Compared
---
Strongest Climber's Helmet
Looking for the toughest climbing helmet out there? Our most durable choice has got to be from Mammut climbing helmets. The Mammut Skywalker 2 Climbing Helmet is heavier than most, thanks to its supreme level of strength and durability. Some other high-strength climbing helmets include:
Best Cheap Climbing Helmet
Being safe while climbing doesn't mean you have to break the bank. Our top choice for an affordable climbing helmet goes to the Tontron Adult Climbing Helmet. The high level of quality combined with the price makes this one great value. Other excellent value options include:
Best Women's Climbing Helmet
While there are loads of great options out there, the best women's climbing helmet has got to be the Petzl Unisex Boreo Climbing Helmet. Some other high-quality options include:
---
Best Climbing Helmets – Our Top 8 Choices
Mountaineering helmets can be tricky to choose because you don't really know how the product will perform until you have tried it out. As this is one of the most essential pieces of rock climbing gear, you need to make sure that you choose wisely. Through our extensive rock climbing experience, we have put together the 8 best climbing helmet reviews to help you find the perfect protective gear.
Black Diamond Vapor Climbing Helmet
A super low profile design
Geometric open-air design for better airflow
Ratchet adjuster with molded push buttons
Includes removable headlight clips
This Black Diamond helmet is a popular choice thanks to its co-molded EPS inner and a low-profile polycarbonate shell. Basically, this means that the helmet is super durable, comfortable, and it offers enhanced protection while climbing. For easy adjustments, there is a convenient ratchet system with molded push buttons. This allows you to get just the right fit with minimal effort.
The Blackdiamond Vapor climbing helmet is seriously lightweight, and it breathes very well, thanks to the large ventilation ports. With an adjustable padded suspension system for comfort and an incredibly lightweight shell, this helmet is everything you would need for mountaineering.
Pros
Large ventilation holes for increased airflow
An extremely comfortable and lightweight helmet
Easily adjustable
Available in a great range of colors
Cons
The helmet can ding fairly easily
Quite an expensive option
Mammut Skywalker 2 Climbing Helmet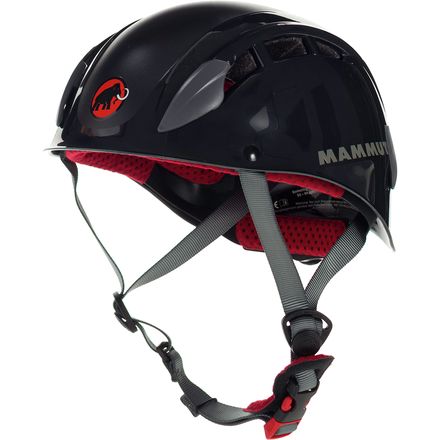 Strong hard-shell design for serious impact
One-handed adjustment capabilities
Headlamp clips for night time climbing
Breathes very efficiently
Mammut helmets are known for their superior strength and thoughtful design. This Mammut climbing helmet achieves exactly this. The helmet may be a bit heavier than most, but this is due to the high level of durability and strength that the hard-shell design offers. You can easily adjust the size of this helmet with one hand to make sure you always have a perfect fit.
The helmet includes useful headlamp clips for caving or nighttime climbing. Thanks to the effective air vents, the helmet also breathes really well in all conditions. This is a heavy-duty rock climbing helmet for serious users.
Pros
A particularly durable climbing helmet
Easy one-handed adjustment
Includes headlamp clips
Great ventilation
Cons
This helmet is heavier than most
Petzl Vertex Vent Hi-Viz Helmet
A super comfortable, adjustable helmet
Has a six-point textile suspension system
Ventilation holes with sliding shutters
High visibility outer shell
The Petzl Vertex Hi-Viz helmet is one of the most versatile helmets out there for all kinds of climbers. It can be used as a high-quality mountain climbing helmet, in climbing gyms, or by utility workers.
This helmet features a number of ventilation holes with sliding shutters. This allows you to cool down your head while climbing. These holes also allow you to easily integrate a Petzl headlamp into the helmet. It has a six-point textile suspension system which makes sure that the helmet will fit any head perfectly. For added safety in dark conditions, the helmet has a fluorescent orange, high-visibility shell.
Pros
A well-ventilated helmet with good airflow
Fully adjustable
Compatible with other accessories, such as a headlamp or hearing protection
A high-visibility helmet
Very lightweight
Cons
No soft foam in the helmet
Tontron Adult Climbing Helmet
High-impact ABS shell
Includes a high-density EPS liner
Sideways vent hole for breathing
Adjustable back of head closure system
This climbing helmet by Tontron is a convenient, great value solution for all types of mountaineers. Thanks to the comfortable EPS liner, you can wear this helmet while climbing, hiking, caving, or working without it restricting you. There is a high-impact ABS shell, combined with the high-density foam for superior protection.
The helmet has a sideways vent hole system for airflow. At the back of the head, there is an easy-to-use adjustable closure system to suit all head sizes. The helmet supports headlamps with its universal buckles. You can even add a clever sunhat attachment to these buckles for protection against UV rays.
Pros
Includes a buckle system to attach headlamps or a sunhat
Thick and comfortable EPS liner
Easily adjustable
Good value for money
Cons
The helmet sits quite high on the head
Black Diamond Half Dome Climbing Helmet
One-hand adjustment dial
Includes headlamp clips
Efficient and comfortable chin strap
Features a new lower profile suspension system
The Black Diamond half dome helmet is one of the top rock climbing helmets for serious climbers. The design uses an improved lower profile suspension system to stop the helmet from sitting too high up on the head. The chin strap is incredibly comfortable and works very efficiently for keeping the helmet firmly in place.
There is an adjustment dial at the back of the helmet that can be used with a single hand. This makes it easy to keep the helmet in the right setting while you are climbing. Black Diamond is a name associated with quality outdoor goods, and this durable protective helmet is no exception.
Pros
Very easy to adjust
One of the more comfortable climbing helmets
Lightweight and easy to wear while climbing
Well-ventilated
Offers a superior level of protection
Cons
The coloring can vary compared to the pictures
Petzl Unisex Boreo Climbing Helmet
A durable and versatile hiking helmet
Compact but highly-protective design
Reinforced lateral, front, and rear impact protection
Optimized ventilation holes
The best mountain climbing helmet needs to be comfortable, enjoyable to wear, and incredibly durable. This unisex helmet by Petzl ticks all of these boxes. The helmet offers superior protection through its reinforced lateral, front, and rear impact protection design. The snug fit can be easily adjusted to fit all shapes of heads perfectly. The helmet is also very compact, even though it covers your head really effectively.
For greater comfort, there are efficient ventilation holes that keep your head cool while climbing. With a thick EPS inner liner and some soft padded areas, the helmet offers the ideal combination of safety and comfort. Of course, the hard outer shell stands up well against any impact on the rock face.
Pros
The helmet offers an excellent level of high-impact protection
Easily adjustable
Snug fitting and comfortable to wear
Great ventilation system
Full coverage around the back of the head
Cons
The chin strap is a little short around the ears
Some helmets have softer liners than this one
Petzl Sirocco Climbing Helmet
Hybrid EPP and EPS design
Wide ventilation holes for better airflow
Includes a protective storage bag and spare foam
Adjustable headband and magnetic buckle
Petzl climbing helmets are clearly some of the best products on the market, and this model is no exception. The Sirocco climbing helmet offers a brilliant combination of protection complemented by a lightweight design. The helmet uses a hybrid design with an expanded polypropylene foam (EPP) and a rigid crown injected with expanded polystyrene foam (EPS). This offers a great combination of comfort and impact resistance.
The helmet has two hooks and a rear elastic to make it easy to attach a headlamp. The ventilation holes are very wide for better airflow and a lightweight design. The headband is fully adjustable, and there is also a magnetic buckle on the chin strap to make it simple and comfortable to wear.
Pros
Lightweight but durable
Excellent ventilation
Comfortable and easy to wear
Simple headlamp attachment system
Easy to fasten, even with gloves on
Cons
This helmet is a bit more narrow than other options
Petzl Meteor Climbing Helmet
Lightweight and low profile
Excellent ventilation
Superior comfort
CE-certified ski touring helmet
This Petzl climbing helmet is a versatile option for all types of mountaineers and rock climbers. It can be used as a ski and climbing helmet thanks to its CE-certification. The helmet is of a low profile design which makes it more comfortable and easy to wear in a variety of situations.
This climbing helmet is incredibly lightweight, comfortable, and easy to adjust. You can also integrate ski goggles or a headlamp. The thoughtful design of the Petzl Meteor climbing helmet makes it a popular choice for all mountain enthusiasts.
Pros
A lightweight and comfortable design
Well-ventilated
Certified safe for skiing
Easy to adjust
Cons
A more expensive climbing helmet
---
Mountaineering Helmet Buyers Guide
When looking through rock climbing helmet reviews, there are loads of different products to choose from – each with its own special features and capabilities. So, what makes for the best climbing helmet? We have listed some of the most important considerations below.
Adjustability and Fit
You need the helmet to fit you properly in order for it to be completely safe. Not only this, but the fit also influences the comfort level. Make sure to choose a helmet that is fully adjustable and can be perfectly fitted to your head shape. The best climbing helmets have a single one-handed adjustment point for easier use.
Materials and Durability
Of course, the helmet needs to be strong and secure to work properly against rock faces. Make sure you choose a helmet made from high-quality materials that are designed to take high-impact hits. The best helmets will have a strong outer shell, and an impact-resistant EPS liner to help absorb the shock.
Helmet Shape
You can get a full-shell helmet, a half-shell helmet, helmets that offer more neck protection, etc. Different shapes of helmets will offer different levels of protection, but they will also influence the comfort of the helmet. Be sure to choose the one that best suits your requirements.
Weight
A lightweight climbing helmet is ideal. Although you need great protection, you don't want the helmet weighing you down. Make sure that the helmet is not heavy to wear, as this can really affect your performance levels while climbing.
Ventilation
The best climbing helmets should be well-ventilated for maximum airflow. This helps to reduce sweat and keep your head cool. However, you don't want the helmet to be overly ventilated, causing cold ears. Some helmets offer adjustable air vents which can be a useful feature.
Special Features
Climbing helmets come with various different features. This can include things like straps for a headlamp, an attachable sunhat, ventilation holes that you can open and close, a magnetic chinstrap, and so on. These small features really make a big difference in the end, so they should be considered when looking for the right helmet.
---
Conclusion
Rock climbing can be a dangerous sport, so you will need to be sure that you have a helmet that offers optimal protection. The rock climbing helmet that you choose will make a major impact when it comes to protecting your head as well as keeping you comfortable while climbing. This is one of the essential pieces of rock climbing equipment.
Our selection of the best climbing helmets above has been specially chosen for their high-performance qualities while climbing. Whether you are in the gym or on the mountain, be sure to consider some of these top products to increase your safety. At the end of the day, this means more fun on the rocks!
---
Extremepedia is a participant in the Amazon Services LLC Associates Program, an affiliate advertising program designed to provide a means for sites to earn advertising fees by advertising and linking to Amazon.com. Amazon and the Amazon logo are trademarks of Amazon.com, Inc. or its affiliates.