The best sit on top kayaks are the ones that keep you warm and dry while letting you easily explore lakes, rivers, or the ocean.
Suppose you are a beginner looking for a kayak or an experienced paddler trading in your old kayak. In that case, it is essential to consider the weight capacity, unloaded weight, length, and width of your potential new paddling partner.
We cover 10 of the best sit on top kayaks in various categories before sharing each product's pros and cons to make your buying experience easier.
TLDR
TLDR:
The
Deus Aero inflatable kayak
from Bote is our choice of the best sit on top kayak due to its compact nature and superb tracking. It is inflatable and features a removable seat making it great for travel and storage.
Bote is a well-trusted brand from the USA offering kayaks constructed from their durable PVC called Aero Technology. We love the idea of an inflatable sit on top kayak for the convenience the compact design offers.
It is a capable craft and is the perfect choice for a beginner or intermediate paddler looking for a sit on top kayak to explore during an adventurous holiday or a well-planned fishing trip.
Best Sit on Top Kayak Reviewed
Best Sit on Top Kayaks Comparison Table
The below table will give you an idea of each kayak's strengths, price, and rating. You can use the table to quickly decide or continue down to read more in-depth reviews of each kayak.
Best Sit on Top Kayak For Beginners
The best sit on top kayak for beginners is the Lifetime Tamarack kayak, which is the most affordable kayak in our review. As an entry-level kayak, it offers a stable paddling experience while providing you with ample storage options.
The following are suitable sit on top kayaks for beginners:
When finding your sea legs, you are likely to end up in the water when you least expect it. Choosing the right sit on top kayak as a beginner paddler can help you to avoid getting wet or worse…
Best Sit on Top Tandem Kayak
The Zeppelin Aero Inflatable from Bote is the best sit on top tandem kayak. The vessel is sturdy when inflated and can comfortably carry two seated adults (the second seat is sold separately). Nothing beats sharing a superb morning paddle along the shoreline with a partner.
The following is also a suitable sit on top tandem kayak:
The above sit on top kayaks give you the freedom to explore alongside your friend or family member. You can paddle these crafts on your own. However, you will appreciate a helping hand to reach the water.
Most Stable Sit on Top Kayak
The Wilderness Systems Atak kayak is the most stable sit on top kayak in our review. Thanks to the increased rocker in the hull, this vessel can navigate moving water with ease.
The following are the most stable sit on top kayaks:
When choosing a sit on top kayak, you are going to want to keep stability in mind. The enjoyment of the outdoors is soon lost when you find yourself overboard. With this in mind, choose from one of the above kayaks, and remember to secure your gear on board.
Best Recreational Sit on Top Kayak
The Star Challenger Fish inflatable is our choice for the best recreational sit on top kayak for its various surface mounts and daisy chain webbing for securing your gear.
Recreational kayaks are great for adventures that involve gear. It is most common to find storage areas fitted with bungee cords to secure your lunch or tackle. The inclusion of fishing rod holders is a tell-tale sign of a recreational sit on top kayak.
10 Best Sit on Top Kayak Reviews
Having broken down the best sit on top kayaks, we hope to make your buying decision even easier by going in-depth with our reviews of the products below.
Bote Deus Aero Inflatable Sit on Top Kayak Review
Drop stitch PVC
Weight capacity of 300 lbs
Weight 41 lbs
11 foot long
Portable and convenient for paddlers who are interested in a compact product. The 33-inch wide vessel is stable when sitting on top or in a standing position.
The best sit on top kayak, the Bote Deus Aero, is inflatable and tracks well thanks to a removable center fin and two built-in side fins. The cushioned deck pad creates both a comfortable and non-slip surface. The comfortable seat is removable, allowing you to use the kayak as a stand-up paddleboard.
Pros
Compact design
Removable seat
A stable design with fins
Cons
Does not include a paddle
Inflating with the hand pump takes long
Pelican Sentinel 100x EXO Kayak Review
High molecular weight polyethylene material with a UV finish (Ram-x)
Weight capacity of 275 lbs
Weighs 44 lbs
5 feet long
The Pelican Sentinel 100x Exo is a great beginner kayak with a large, comfortable seating area and a floor mat for grip. It is made from Pelican's durable Ram-x material and features a multi-channel bottom for improved stability. The kayak has a great balance between maneuverability and speed.
Pros
Includes Exoshell 13 l storage compartment
Easy to access tank storage area with bungees to secure it
Stable hull design
Cons
This kayak doesn't come with a paddle
Rear storage area often fills with water (use dry bags)
Bottom of the kayak is prone to scratching
Malibu Two Tandem Sit on Top Kayak Review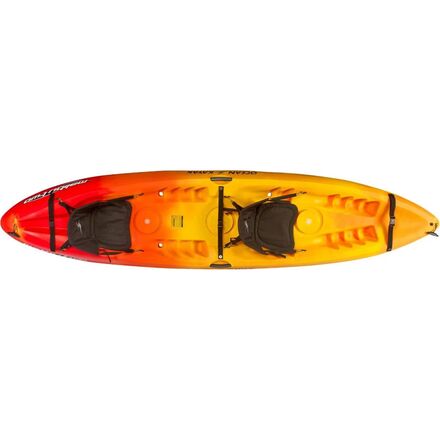 Single-layer polyethylene
Weight capacity of 425 lbs
Weighs 58 lbs
12 feet long
The Malibu Two Tandem is a great sit on top kayak for a recreational paddling family looking to spend time on the water together. The 34-inch width makes this kayak suitable for beginner to intermediate paddlers. It has two comfort plus seats with three molded-in seat wells.
This kayak will quickly have you and your paddling partner feeling confident and ready to tackle longer distances on open water.
Pros
Limited lifetime warranty
It can fit two adults and has a third seat for a small child
Gear straps on the bow, stern, and center
Cons
Not very maneuverable
Low weight capacity for two adults
Does not include a paddle
Bote Zeppelin Aero Inflatable Sit on Top Kayak Review
PVC (Bote Aero Technology)
Weight capacity of 600 lbs
Weighs 41 lbs
12 feet 6 inches long
The Bote Zeppelin Aero is designed with durability and stability in mind. It is a convenient inflatable kayak suitable for one or two passengers. The kayak is perfect for an adventurous individual or couple who enjoy seated or stand-up paddling.
Bote is a well-trusted watercraft company based in Destin, Florida, and provides customers with a one-year manufacturer's warranty.
Pros
It fits in the compact bag when deflated
Magnepod compatible for securing metal drinkware
Elevated seat design keeps you dry
Cons
Expensive
Requires pumping up before use
Does not include a paddle
Lifetime Tamarack Kayak Review
UV protected High Density Polyethylene
Weight capacity of 275 lbs
Weight 52 lbs
10 foot long
The Lifetime Tamarack is olive green in color and has two fishing pole holders and a paddle cradle making it suitable for your next camping trip. It is an affordable option for beginner paddlers. The sit on top design features a padded seat making it great for recreational trips and fishing.
It has convenient 6-inch wide storage hatches and shock cords in the front and rear. The comfortable seat and multiple footrest positions help to enhance your paddling experience.
Pros
Affordable
Lots of storage
Stable
Cons
Doesn't include a paddle
Lower seat cushion is not thickly padded
Shock cord fittings can leak water into the body
Wilderness Systems Sit on Top Atak Kayak Review
Polyethylene
Weight capacity of 400 lbs
Weighs 86 lbs
12 foot 3 inches
The Wilderness Systems Atak kayak is suitable for intermediate and advanced paddlers interested in a top-of-the-line product. It has great built-in features and is highly customizable, capable of receiving a rudder and Helix motor drive (both sold separately).
The comfortable seat can easily adjust forward and backward. Its hull features an increased rocker which makes the kayak capable of taking on more turbulent waters.
Pros
Capable in moving water
Highly customizable
Adjustable seat
Cons
Expensive
Heavier than similar length kayaks
Paddle not included
Pelican Sentinel Lightweight Fishing Kayak Review
High Molecular weight polyethylene (Ram-X)
Weight capacity of 325 lbs
Weight 50 lbs
10 foot long
The Pelican Sentinel Lightweight fishing kayak is lightweight and easily maneuvered on your own or with assistance using the carrying handles. The kayak features an ergonomic seat that is adjustable and padded for excellent back support.
It has a multi-chine flat bottom design which favors stability over speed. It is Ideal for beginners through to advanced paddlers looking for a capable recreational craft. It has adjustable footrests with straps that allow you to exert more paddling force while remaining comfortable.
Pros
Swivel holder and two flush mount fishing rod holders
Two quick-lock storage hatches
Stable multi-chine hull
Cons
It does not include a paddle
Paddlers taller than 6 feet may require a longer kayak.
Jackson Bite Angler Kayak Review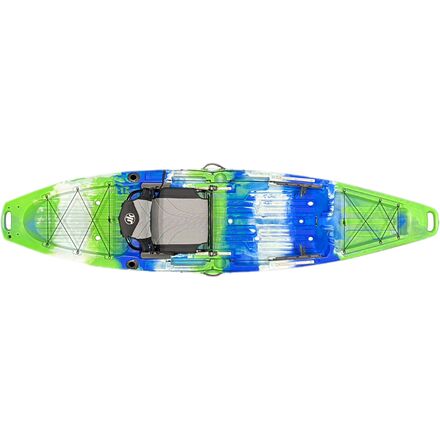 Polyethylene
Weight capacity of 400 lbs
Weight 74 lbs
11 foot 6 inches
Using the Jackson Bite Angler kayak as a beginner paddler is easy because of the vessel's stability. This low profile craft is designed with the purpose of fishing in mind. The kayak features storage for tackle boxes and two flush-mounted rod holders.
It has a raised ergonomic padded seat and a large area suitable for standing while casting your fishing line.
Pros
Stable 36-inch wide hull design
Raised seat makes paddling easy
Large storage areas with bungees
Cons
Does not include a paddle
Average tracking
No internal storage
Star Challenger Fish Inflatable Sit on Top Kayak Review
Drop-stitch PVC
Weight capacity of 275 lbs
Weight 27 lbs
10 foot 8 inches long
The Star Challenger Fish inflatable kayak offers a stable vessel from which you can sit, stand, and cast your fishing line. Ideal for beginner and intermediate paddlers looking to explore on a compact and inflatable craft.
It is an inflatable kayak and offers an elevated seating position, improving the ergonomics of your paddling position. The aluminum folding seat rests on a stable deck that is supported by the two 9-inch side tubes. The vessel has five Switchpad flexible surface mounts for accessories from Yakattack.
Pros
Items easily secure to the daisy chain webbing in the rear
Stern fin plate with the provided fin offers great tracking
Lightest kayak in our review
Cons
Only external storage
Additional shock cord needed to fasten larger items
Vibe Sit on Top Yellowfin Kayak Review
Rotomolded single piece polyethylene
Weight capacity of 400 lbs
Weighs 65 lbs
12 foot long
The Vibe sit-on-top yellowfin kayak offers beginner and intermediate paddlers a great vessel for flat water and calm ocean excursions. It is a stable vessel with a slip resistant surface featuring two tackle tray holders and a huge rear storage area with bungee tie-downs.
The four comfy carry handles make the kayak easy to carry between two or more people. The 65 pound weight is possible to maneuver by yourself. The seating is adjustable and feels stable, thanks to the pontoon-style hull design.
Pros
Stable wide deck for seated or standing
Dual-position seat is comfortable
Great tracking
Cons
Hull shape is not compatible with many kayak carriers
Does not include a paddle
Best Sit on Top Kayak Buyers Guide
When looking for the best kayak to sit on top of, it is important to consider the weight capacity, unloaded weight, length, and width of the vessel. A beginner paddler will feel more comfortable on a longer and broader kayak, while an intermediate paddler might look for a kayak capable of safely carrying all the gear needed for a day out on the water.
Read the breakdown of each characteristic below.
Weight Capacity
Each sit on top kayak has a different weight capacity due to the design and the construction of the vessel. Most single person kayaks can happily carry the extra weight of your gear or even an additional young adult.
The capacities provided in our review are to be used as guidelines for calm water conditions. We have all capsized while kayaking, but let's aim for it not to happen in your new yak due to weight!
Weight of Kayak Unloaded
The average recreational sit on top kayak weighs 35 lbs unloaded, while tandem and fishing kayaks can weigh as much as 100 pounds. The materials used, length, and width of the vessel can affect the unloaded weight.
Inflatable kayaks offer a lightweight alternative while still providing great weight capacity. When planning to carry a heavy load from your vehicle to the water, we recommend asking for assistance or using a heavy duty kayak cart
Length And Width of Kayak
Sit on top kayaks are typically between 9 and 13 feet long. While the length of the kayak impacts the vessel's ability to navigate in moving water, longer kayaks are favored for their speed when traveling longer distances.
The width of the vessel affects its speed while offering stability in return. Suppose you are a beginner or intermediate paddler, we recommend choosing to sit on a kayak favored for its stability. A wider kayak may require a wider paddle. Choosing an adjustable paddle is also an option.
Now That You've Chosen Your Yak, The Adventure Begins!
Our guide aims to get you into the water with the best sit on top kayak for your needs. Whether you choose the compact Deus Aero inflatable kayak from Bote or the affordable Lifetime Tamarack kayak, you will find it challenging to spend time away from the water.
With paddles in hand, the adventure can continue into the late afternoon. Consider taking a refreshing moment during your paddle to explore beneath the water surface with a full-face snorkel mask.